Star Collector: Mediterranean Odyssey
on Star Pride
Traverse the Mediterranean Sea while exploring lesser-known Italian small ports, Greek ruins and Holy Land shrines during this exceptional 16-day cruise with overnight stays in Rhodes and Haifa. Browse the small, uncrowded shops or nibble on briny local sheep cheese paired with tart, Malvasia white wine amid the unhurried coastal elegance of Cagliari, a less touristy Sardinian port rich in modern art and authenticity. Cook up Sicilian seafood with a chef in the fishing port of Trapani, Sicily.
...

THE WORLD'S BEST SMALL SHIP CRUISE LINE
NO ONE ELSE GOES SO FAR TO GET TRAVELERS SO CLOSE …
You're closer to secluded coves, tiny villages, misty fjords. To ancient ruins, medieval alleyways, quaint marinas. To unspoiled beaches, unfamiliar cultures, undiscovered atolls. To enlivening your curiosity and awakening your sense of wonder. You're closer than ever to the kind of authentic and unforgettable experiences that you travel to find in the first
...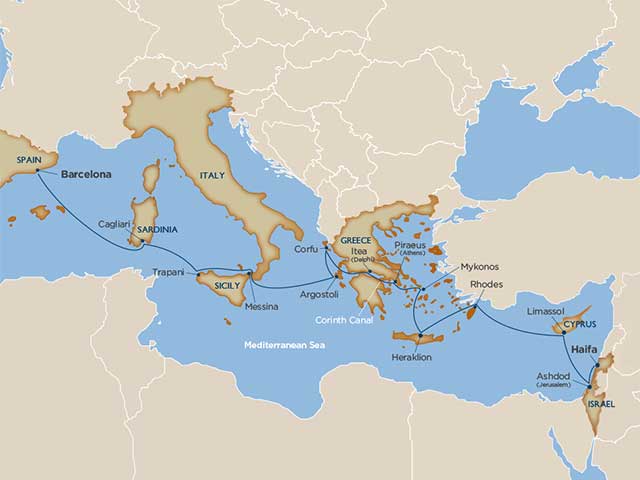 | Day | Port | Arrive | Depart |
| --- | --- | --- | --- |
| 1 | Haifa | | |
| 2 | Haifa | | 10:00 PM |
| 3 | Ashdod | 7:00 AM | 6:00 PM |
| 4 | Limassol | 10:00 AM | 6:00 PM |
| 5 | Rhodes | 4:00 PM | |
| 6 | Rhodes | | 5:00 PM |
| 7 | Heraklion | 7:00 AM | 5:00 PM |
| 8 | Mykonos | 7:00 AM | 9:00 PM |
| 9 | Athens | 7:00 AM | 5:00 PM |
| 10 | Delphi | 2:00 PM | 9:00 PM |
| 10 | Corinth Canal | 8:00 AM | 10:00 AM |
| 11 | Corfu | 1:00 PM | 9:00 PM |
| 12 | Argostoli | 7:30 AM | 2:00 PM |
| 13 | Messina (Taormina) | 10:00 AM | 5:00 PM |
| 14 | Trapani | 8:00 AM | 5:00 PM |
| 15 | Cagliari | 8:00 AM | |
| 16 | At Sea | | |
| 17 | Barcelona | 8:00 AM | |